Promise to get to know you
We promise to take the time get get to know you and those needing housing, making sure people are the center of our mission.
more coming soon.
Promise high quality
Lifetime lasting construction is what we aim for in our production lineup, no duck tape, even if it takes more time we want to do it right.
more coming soon.
Promise to put your needs first
Our entire business model is that we must benefit all those involved. We put people before profit. Employees, Home Buyers, and the likes.
more coming soon.
Expect a Lifetime of Memories from Your Tiny Home
Moving into a tiny home should be one of the happiest days of your life. You touch the beautiful wood finishes. Delight in having everything at your fingertips. Breathe in the serenity. We believe the joy of a tiny home should last for a lifetime. That's why Seattle Tiny Homes makes this promise to you:
How We Get to Know You Personally
Every Seattle Tiny Homes project starts by connecting you and getting to know who you are. Through our design process , we work with you to determine:
Your Purpose
We'll clarify if you're using your tiny structure as a residence, vacation home, office/studio, aging-in-place option, or for any other purpose. We can match your tiny home's appearance to an existing structure if preferable.
Your Ideas
We'll listen intently to your dreams for your tiny abode and collaborate with you to incorporate them into your design. Our goal is for every square inch of your home reflects your unique lifestyle and goals.
Power & Utilities
We offer a range of options for power sources and utilities, including:
Standard RV hook-ups for electricity, water, drains, and toilets
Off-the-grid power sources like propane and solar
Incinerating or composting toilets
Water catchment and gray water systems
Delivery & Set-up
We can deliver in the 48 contiguous states and to shipping docks in Portland and Seattle for delivery to Alaska, Hawaii, and international destinations. We can also assist with the final positioning of your home at the delivery location.
Once we understand your goals, we develop personalized plans based on your unique vision. During the build, we collaborate with you at every step and send you weekly photos of your home's progress. You are truly a partner in your tiny structure's creation!
How We Build to the Highest Standards of Quality
Since our start in 2010, Seattle Tiny Homes has been known for our quality construction. We've built our reputation by paying attention to the details that matter most in tiny home construction:
RV Certification
We certify our homes as RVs (recreational vehicles), making insurance and financing simpler. This also provides peace of mind knowing you are legal and certified to park in an RV park.
Lifetime Roofing
Why worry about replacing your roof? Plus, lifetime roofing holds up better when towing.
Superior Windows
We start with quality windows designed for high efficiency. We use metal flashing over the top of the windows along with flashing, taping, and caulking around them to keep moisture away.
Moisture-Beating Technology
We use marine grade plywood, special barriers, and other technologies to keep the moisture away.
Advanced Insulation
Spray foam and rigid foam board insulation keep your tiny home cozy and stop moisture from getting inside.
Screw & Glue
We screw and glue key components so nothing shakes loose when you travel. We do not use ring shank nails.
Wind Resistance
Shear panels, hurricane ties, and steel reinforcements to the studs and rafters make your home rock-solid.
Quality Components
We use name-brand siding, windows, doors, and trim to ensure longevity. These components also come with a manufacturer's warranty.
Wood & Plywood
We use only wood and plywood because particle board and OSB are too sensitive to moisture.
Over the Wheels
Our unique trailer design allows us to build over the wheels, giving you access to the full 8-1/2 feet of road-legal building space.
Commercial Axles
Heavy duty axles keep your trailer rolling as long as your home.
Solid Foundation
Your home will sit down inside the framework of our specially engineered steel trailer , providing safety and stability along with extra height for your home. We do not build on standard flatbed trailers.
The durability and finish of a Seattle Tiny Home meets or exceeds the standards of a traditional stick-built home. Our goal is for your home to last a lifetime and beyond.
Founder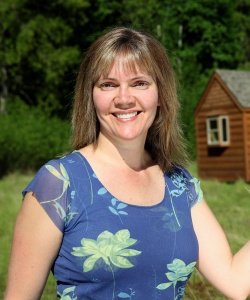 Sharon Read : Founder
At age 12, Sharon Read was drawing floor plans for homes that she proudly labeled as "bare minimum design." She didn't like wasted space and wanted every square inch to count! Then in 2010, as America struggled to recover from the glut of unsold mini-mansions, Sharon realized tiny homes were the future. She recognized that people want to live simply without stressing the environment. She launched Seattle Tiny Homes to provide highly efficient designs for people who care about quality.
We've grown steadily since then. We became the first tiny home company in the state of Washington to achieve certification as an RV (recreational vehicle) manufacturer and dealership.
Design Consultant
Sharon works with our clients on the design aspects creating beautiful tiny house spaces.
President
Todd McKellips : President
AS SEEN ON:
Todd McKellips : President
Social entrepreneur, philanthropist, chaplain and family man. "What do you not do?" Is something he hears quite often! He is a compassionate advocate for people living in poverty, as he has seen homelessness firsthand after a traumatic back injury with Pierce County Sheriff Department. Todd is the state chapter leader for the American Tiny House Association a national effort with affordable housing as at his core mission. He is passionate about bringing home ownership to those who can only dream of it. Todd is the director for Washington tiny house association and is currently working with multiple elected officials, government entities such as HUD, Dept of Veteran Affairs. He is closely working with multiple non-profits and investors creating tiny home spaces for homeless and truly affordable housing. Since his early youth his parents experienced poverty and having to sell nearly all our possessions to keep living in a safe humble home. At a very young age he started working and became a business owner and now has over twenty-six years of entrepreneurship experience running nine businesses currently, as well as an extensive background in criminal justice and public safety. He loves serving his local community with multiple non-profits.
Commitment To You
Today we're committed to our vision to provide personalized tiny dwellings that are built for a lifetime of satisfaction. "When you enter a Seattle Tiny Home, you immediately feel the craftsmanship and attention to detail,"
We'd love to hear from you and discuss how we can help make your tiny house dreams come true!