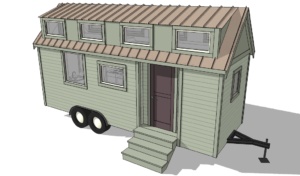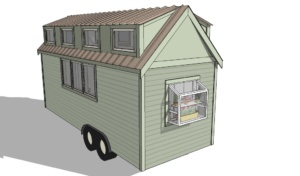 Seattle Tiny Homes is excited to announce our newest model: the Wallingford model.
With a design patterned after some of the gracious dwellings in the Wallingford neighborhood of Seattle, this home features beautiful dormer windows that extend nearly the entire length of the roof on both sides.
Why  Choose The Wallingford Model?
The result is a large loft area filled with natural light, creating an amazingly open and attractive space for sleeping, reading, or simply for storage.
Like every Seattle Tiny Home, the Wallingford is fully customizable to meet your specific needs. For example, you could have two separate lofts, giving you a vaulted ceiling above the great room. Or, you could have one large loft running the entire length of the home, giving you even more space upstairs.
Options also include a washer/dryer, shower or bathtub, full or partial kitchen, and your choice of colors, finishes, and amenities.
For customers needing even more space, we can craft the Wallingford as a 10-foot wide model. 10-foot wide models need a temporary $30 "wide load" permit to travel down the highways in Washington state.
Of course, the Wallingford features all the traits that have made Seattle Tiny Homes so popular: efficient use of space, beautiful craftsmanship, and quality construction. For more information about the Wallingford, contact Sharon Read at (425) 445-3675.